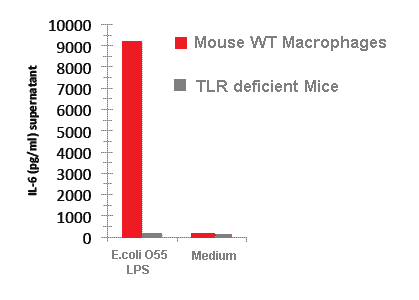 LPS Ligands – TLRclassified Ligands!
The LPS ligands in our product range are TLRclassified:
– High purity (>98%)
– LPS lacks any detectable bacterial, (lipo-)protein, DNA, RNA or other TLR-stimulating activity due to its ultra-purified formulation
– In sterile solution
Experiment with HC4045: Lipopolysaccharide (LPS) from E.coli Serotype O55:B5
Macrophagesfrom TLR deficient (TLR4 knock-out) mice and from TLR4 expressing wild-type (WT) were stimulated with E.coli Serotype O55:B5, in a concentration of 1 µg/ml.
After 24 hours, the cell culture supernatant was analyzed by measuring IL-6 with ELISA.
Recommended range for S-type (wild-type) LPS: 0.01 – 1.0 µg/ml.
Optimal concentrations required for activation depend upon bacterial strain and chemotype (R- or S-) LPS, cell species, cell culture conditions, sampling time and cytokine.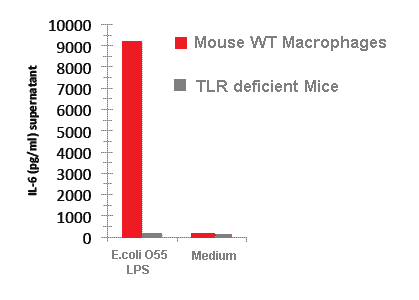 Two antibodies, LPScore (cat.# HM6011) and to Lipid A (cat.# HM6009) were used in an experiment with several LPS types. Both antibodies have the capability to recognise several LPS types: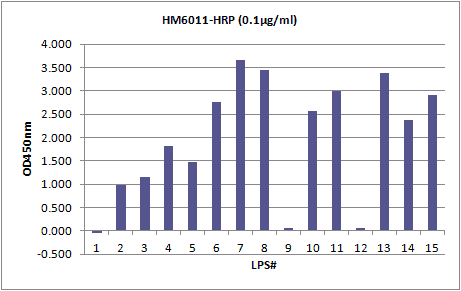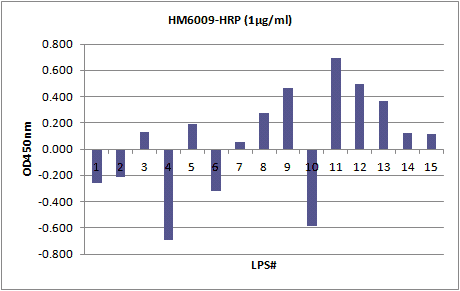 | | | | | |
| --- | --- | --- | --- | --- |
| | LPS Ligand cat.# | HM6009 | | HM6011 |
| LPS 1. Serratia Marcescero | | – | | – |
| LPS 2. P. Aeruginosa type 10 | | – | | + |
| LPS 3. E.coli O55:B5 | HC4045 | + | | + |
| LPS 4. E.coli O41:B4 | | – | | ++ |
| LPS 5. E.coli O128:B12 | | + | | + |
| LPS 6. E.coli O127:B8 | | – | | ++ |
| LPS 7. S. Typhosa | | + | | ++ |
| LPS 8. E.coli O26:B6 | | ++ | | ++ |
| LPS 9. Salmonella Abortus Equi | HC4061 | ++ | | – |
| LPS 10. S.enteriditis | HC4059 | – | | ++ |
| LPS 11. E. coli | | ++ | | ++ |
| LPS 12. K.pneumoniae | | ++ | | – |
| LPS 13. P.aeruginosa | | ++ | | ++ |
| LPS 14. S.typhimurium | HC4060 | + | | ++ |
| | | | | |