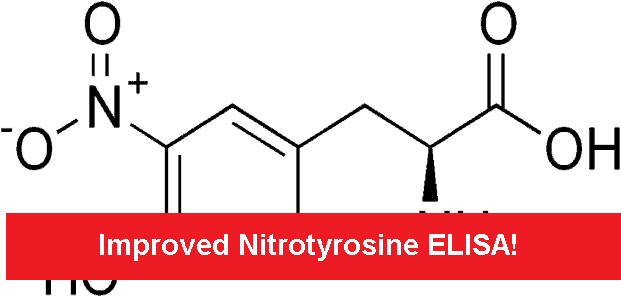 Looking for Oxidative Stress Products?
Oxidative stress is involved in many human diseases, such as atherosclerosis, Parkinson's disease and Alzheimer's disease. In addition, it is assumed to be important in ageing.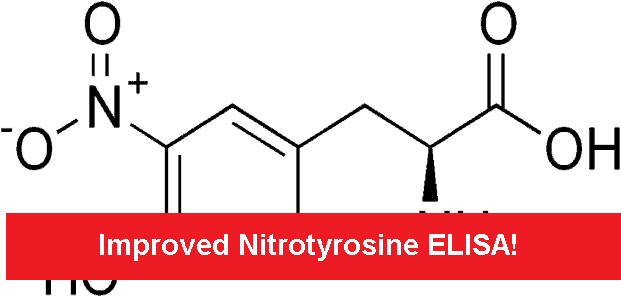 New: Competitive Nitrotyrosine Assay
Measurement of multiple NO-groups instead of one: a new assay with higher specificity! More information?
Click here or go the product directy: Cat # HIT501.
Coming Soon: CML and MGO Competitive Assays!
Two new competitive assays, suitable for almost all species and several sample types. More information? Sent an e-mail to support@hycultbiotech.com.
CML: The figure shows that the assay is species independent: samples of Horses, Goats, Pigs, Rabbits and Mice are tested and suitable!
MGO: The figures show that the sample types which at least can be used are urine, feces, EDTA plasma, Citrate plasma, Heparin plasma and serum.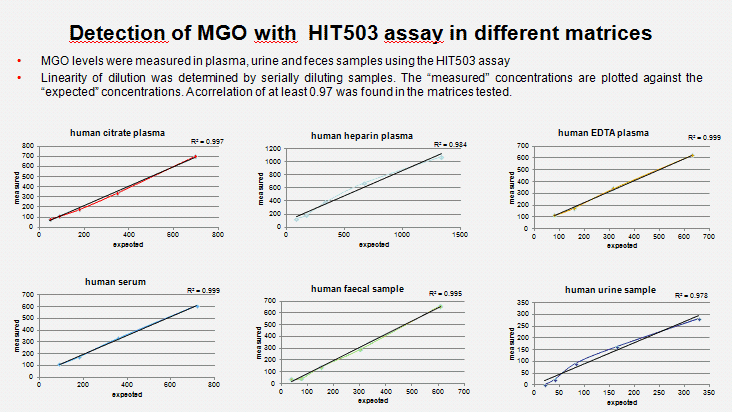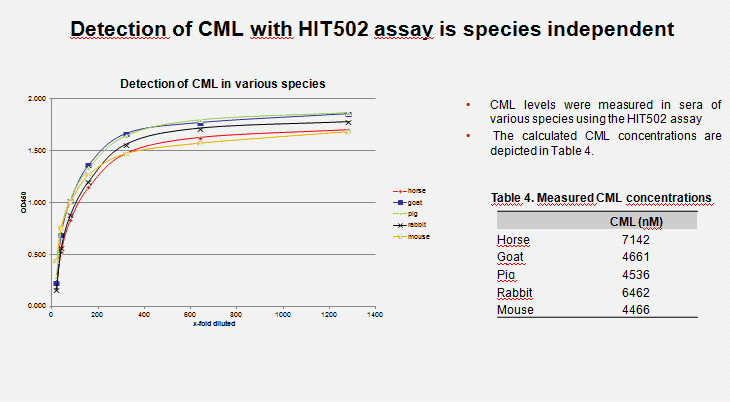 News Items
New Hycult Scope; Our scientific newsletter! Our products used in different research settings: information from scientists themselves. This issue focus is on chronic inflammation, from obesity to atherosclerosis, NEC and much more!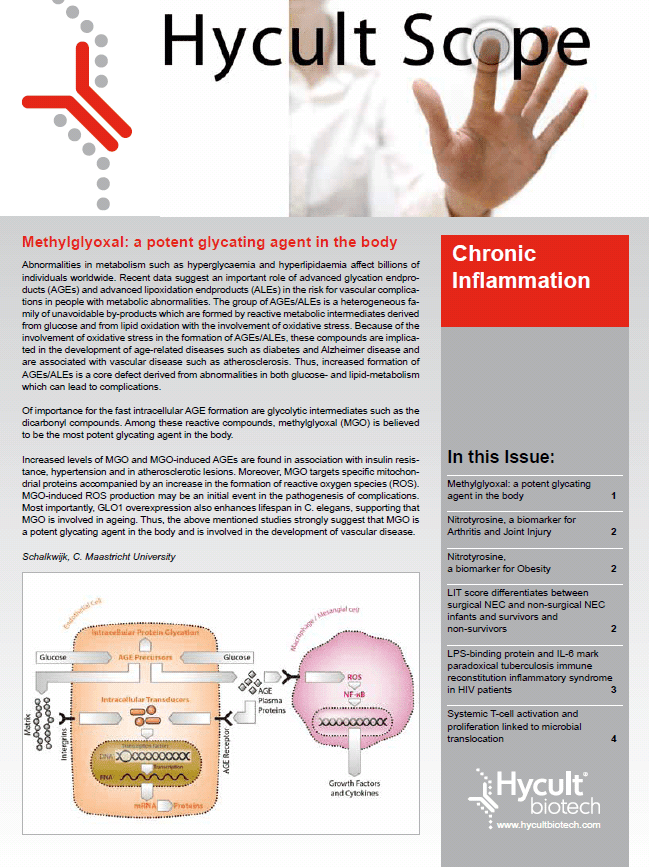 The role of cysteine in OxPAPC signaling
TLR4 signaling in endothelial cells may be triggered by both LPS and endogenous ligands, such as oxidized phospholipids (OxPAPC), leading to endothelial cell activation and a proinflammatory phenotype. Read more….
The role of TLR4 signaling and OxPAPC in the pathogenesis of Atherosclerosis
There is strong evidence that both gene regulation and covalent binding of OxPAPC involve interactions with cysteine and that this interaction is primarily from PEIPC. Read more….
Highlighted Antibodies and Proteins
| | | | |
| --- | --- | --- | --- |
| Product Description | Quantity | Application | Cat # |
| PAPC | 5 mg | | HC4043 |
| Chlorotyrosine, pAb | 100 µg | F IA P | HP5002 |
| MGO-modified proteins, Human, mAb MGO-1 | 100 µg | IA P W | HM5014 |
| CML, Human, mAb CML26 | 100 µg | F IA IF P W | HM5013 |
| BPDE, mAb 8E11 | 100 µg | IA | HM5008 |
| BPDE-DNA, mAb 5D11 | 100 µg | FC IA IF IP P | HM5007 |
| Ethenoadenosine, mAb 1G4 | 100 µg | FC F IA IP W | HM5005 |
| Phosphotyrosine, mAb P9V6 | 100 µg | IA W | HM5003 |
| Nitrotyrosine, mAb HM.11, biotinylated | 50 µg | F IA P W | HM5002 |
| Nitrotyrosine, mAb HM.11, immuno assay antibody | 0.5 mg | F IA P W | HM5001-IA |
| Nitrotyrosine, mAb HM.11 | 100 µg | F IA P W | HM5001 |
| Oxidized PAPC | 5 mg | | HC4036 |
| Oxidized PAPC | 1 mg | | HC4035 |