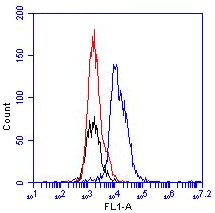 Catalog # HM1137F

DNAM-1, Mouse, mAb TX92, FITC
Please choose the quantity of items you wish to add to your cart…
Find distributor
DNAX accessory molecule-1 (DNAM-1) is a 65 kDa type I transmembrane glycoprotein and a member of the immunoglobulin superfamily. DNAM-1 is constitutively expressed on a majority of T cells, NK cells and macrophages. Interaction of DNAM-1 with DNAM-1 ligands CD155 and CD112 induces intercellular adhesion, infiltration and cell signaling, resulting in a variety of cellular responses including innate and adaptive immunities.
Application
Flow cytometry, Functional studies
Application Notes
FC: Antibody TX92 stains the extracellular domain of DNAM-1. FS: Antibody TX92 has an inhibitory function of DNAM-1 binding to the ligands. It additionally causes partial depletion of PB CD8+ T cells (Ref.1).
Use
For flow cytometry, dilutions to be used depend on detection system applied. It is recommended that users test the reagent and determine their own optimal dilutions. The typical starting working dilution is 1:25. For functional studies, in vitro dilutions have to be optimized in user's experimental setting.
Product type
Monoclonal antibodies
Formulation
0.2 ml (100 µg/ml) 0.2 µm filtered FITC conjugated antibody solution in PBS, containing 0.1% bovine serum albumin and 0.02% sodium azide.
Immunogen
BW5417 transfectant expressing mouse DNAM-1, boosted with DNAM-1-fc fusion protein.
Alias
DNAX accessory molecule-1, Cluster of Differentiation 226, PTA1
Storage and stability
Product should be stored at 4°C. Under recommended storage conditions, product is stable for at least one year. The exact expiry date is indicated on the label.
Precautions
For research use only. Not for use in or on humans or animals or for diagnostics. It is the responsibility of the user to comply with all local/state and federal rules in the use of this product. Hycult Biotech is not responsible for any patent infringements that might result from the use or derivation of this product.
Disease
Autoimmunity, Tumor immunology
CoA-TDS HM1067-HM2099
HM1137F-100UG
HM1137F-20UG
Calculate your ELISA data easily
With the ELISA calculator you can easily calculate ELISA data. Assayfit Pro helps to perform curve fitting. The calculator generates advanced reports, fit graph, fit parameters and goodness of fit are shown.
Latest Hycult Biotech news