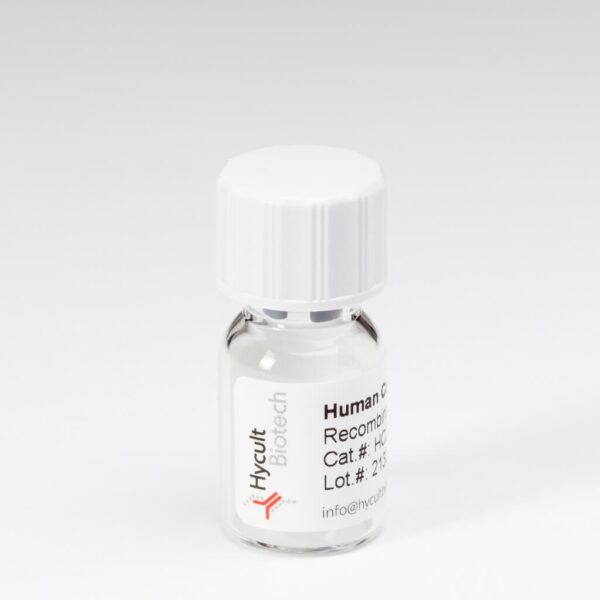 Catalog # HC1105-50UG

E-FABP, Mouse, Recombinant (E.coli-derived)
€314,00
Please choose the quantity of items you wish to add to your cart…
FABPs are small intracellular proteins (~ 13-14 kDa) with a high affinity for small lipophilic ligands and were named according to the tissue from which they were initially isolated (FAPB5, alias E-FABP, was originally isolated in the epidermal). FABPs are involved in the uptake and metabolism of fatty acids, in the maintenance of cellular membrane fatty acid levels, in intracellular trafficking of these substrates, in the modulation of specific enzymes of lipid metabolic pathways, and in the modulation of cell growth and differentiation. Members of the FABP family have a highly conserved sequence, 22-73% amino acid sequence similarity.
FABP5 is one of the at least nine distinct types of FABP. FABP5 is expressed in skin, brain, lens, capillary, endothelium and retina. Elevated levels of FABP5 have been seen in prostate and bladder carcinoma.
Recombinant mouse FABP5 is His-tagged and has the following amino acid sequence:
MRGSHHHHHHGMASMTGGQQMGRDLYDDDDKDRWGSMASLKDLEGKWRLMESHGFEEYMKELGVGL
ALRKMAAMAKPDCIITCDGNNITVKTESTVKTTVFSCNLGEKFDETTADGRKTETVCTFQDGALVQHQ
QWDGKESTITRKLKDGKMIVECVMNNATCTRVYEKVQ (His-tag is underlined, bold sequence is Mouse FABP5).
Alias
FABP5, Fabpe, Klbp, Mal1, Epidermal-FABP, E-FABP
Formulation
Recombinant protein derived from E.coli containing at least 50 μg mouse E-FABP. The exact amount is indicated on the label. Reconstitute the vial by pipetting 0.5 ml distilled or de-ionised water (Caution: vial is under vacuum).
Storage and stability
Lyophilized product should be stored at 4°C. Store stock solution in aliquots at –20°C. Repeated freeze and thaw cycles will cause loss of activity. Under recommended storage conditions, product is stable for at least one year. The exact expiry date is indicated on the label.
Precautions
For research use only. Not for use in or on humans or animals or for diagnostics. It is the responsibility of the user to comply with all local/state and federal rules in the use of this product. Hycult Biotech is not responsible for any patent infringements that might result from the use or derivation of this product.
Disease
Autoimmunity, Tumor immunology
CoA-TDS Protein
HC1105
You may be interested in…
Calculate your ELISA data easily
With the ELISA calculator you can easily calculate ELISA data. Assayfit Pro helps to perform curve fitting. The calculator generates advanced reports, fit graph, fit parameters and goodness of fit are shown.
We are glad to support you!
Our technical support team of qualified scientists is more than willing to assist.