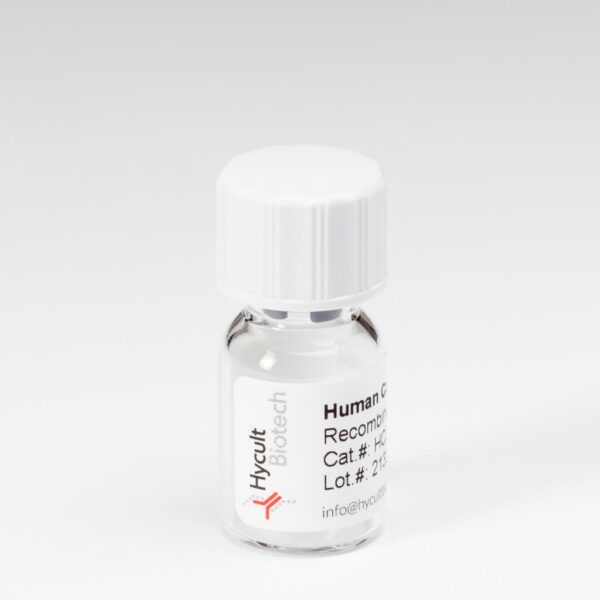 Catalog # HC2106-50UG

B-FABP, Human, Recombinant (E.coli-derived)
€437,00
Please choose the quantity of items you wish to add to your cart…
B-FABP (brain fatty acid binding) protein is derived from the human FABP7 gene. FABPs are small intracellular proteins (~13-14 kDa) with a high degree of tissue specificity that bind long chain fatty acids. They are abundantly present in various cell types and play an important role in the intracellular utilization of fatty acids, transport and metabolism. There are at least nine distinct types of FABP, each showing a specific pattern of tissue expression. Due to its small size, FABP leaks rapidly out of ischemically damaged necrotic cells leading to a rise in serum levels. Ischemically damaged tissues are characterized histologically by absence (or low presence) of FABP facilitating recognition of such areas. B-FABP is localized in the brain and other neural tissues.
Application
Immuno assays, Western blot
Use
For dilutions use protein stabilized phosphate buffered saline, pH7. It is recommended that users test the reagent and determine their own optimal dilutions.
Alias
FABP7, MRG; BLBP; FABPB; DKFZp547J2313
Formulation
Lyophilized product in PBS, containing 50 µg. Reconstitute the vial by pipetting 1 ml distilled or de-ionized water (Caution: vial is under vacuum).
Storage and stability
Lyophilized product should be stored at 4 °C. Store stock solution in aliquots at -20 °C. Repeated freeze and thaw cycles will cause loss of activity. Under recommended storage conditions, product is stable for one year.
Precautions
For research use only. Not for use in or on humans or animals or for diagnostics. It is the responsibility of the user to comply with all local/state and federal rules in the use of this product. Hycult Biotech is not responsible for any patent infringements that might result from the use or derivation of this product.
Disease
Neurological disorders
Calculate your ELISA data easily
With the ELISA calculator you can easily calculate ELISA data. Assayfit Pro helps to perform curve fitting. The calculator generates advanced reports, fit graph, fit parameters and goodness of fit are shown.
We are glad to support you!
Our technical support team of qualified scientists is more than willing to assist.