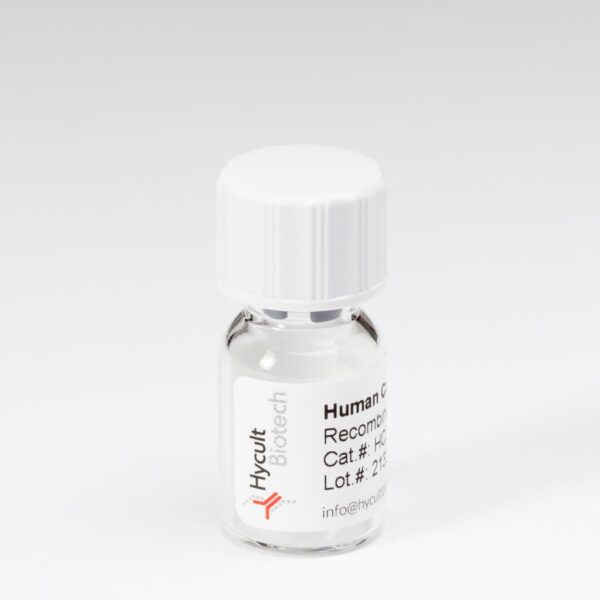 Catalog # HC3103-10UG

C5L2, Rat, Peptide
€499,00
Please choose the quantity of items you wish to add to your cart…
The orphan receptor C5L2 is a seven transmembrane receptor with 40% amino acid sequence identity to the C5a receptor, CD88. Expression has been found on granulocytes and immature dendritic cells. In contrast to CD88, C5L2 is uncoupled from G proteins due to an an amino acid replacement of arginine by leucine in the so called DRY region at the end of the third intracellular transmembrane domain. Following C5a binding, C5L2 seems neither to induce classical signalling nor to cause biological responses. When C5L2 was transfected into several cell types, C5a failed to induce chemotaxis, degranulation, or interacellular calcium mobilization. The high affinfity of C5L2 for C5a and its metabolite, C5adesArg and a low affinity for C3a and C3adesArg suggest that this receptor is a scavenger of complement fragments involved in the defence against the harmful side effects of complement activation. C5L2 expression on human neutrophils is known to be decreased in sepsis; loss of expression may be a prognostic indicator in this condition as survivors of sepsis tend to have higher C5L2 levels. Rat C5L2 peptide has the following amino acid sequence: MLNDTTSKDYEYEYDQEQYSDLLNVPVDC.
Use
For dilutions use protein stabilized phosphate buffered saline, pH 7.4.
Formulation
Lyophilized product in PBS, containing 10 µg peptide. Reconstitute the vial by pipetting 100 µl distilled or de-ionized water (Caution: vial is under vacuum).
Storage and stability
Lyophilized product should be stored at 4 °C. Store stock solution after reconstitution in aliquots at -70 °C. Repeated freeze and thaw cycles will cause loss of activity. Under recommended storage conditions, product is stable for one year.
Precautions
For research use only. Not for use in or on humans or animals or for diagnostics. It is the responsibility of the user to comply with all local/state and Federal rules in the use of this product. Hycult Biotech is not responsible for any patent infringements that might result with the use of or derivation of this product.
Disease
Infectious diseases, Nephrology
CoA-TDS Protein
HC3103
Calculate your ELISA data easily
With the ELISA calculator you can easily calculate ELISA data. Assayfit Pro helps to perform curve fitting. The calculator generates advanced reports, fit graph, fit parameters and goodness of fit are shown.
We are glad to support you!
Our technical support team of qualified scientists is more than willing to assist.