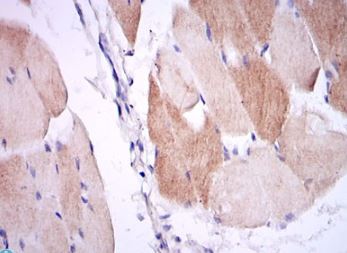 Catalog # HM2383-100UL

IL-1 beta, Human, clone 3A6
Please choose the quantity of items you wish to add to your cart…
Find distributor
Monoclonal antibody 3A6 recognizes human Interleukin-1beta (IL-1B). The IL-1 family of cytokines and receptors is unique and primarily associated with innate immunity. Each member contains the Toll-IL1-Receptor (TIR) domain and trigger innate inflammation through their receptors. There are 11 members of the IL1 family of cytokines known today, inducing a nonspecific immune response. IL1B evolved to assist host defense against infection. Expression is induced by inflammatory signals in a broad panel of immune cells. It activates antigen presenting cells and potentiates CD4+ Tcells toward Th1 and Th17 cells. IL1 members are expressed as zymogens and activated by caspases to generate IL1B and IL18. IL1B acts as an amplifier of the immune response. In western society, IL1 family is nowadays also known for its role in mediating autoinflammatory diseases by excessive production. In case of chronic inflammation this can also lead to tumorgenesis. Recent clinical trials with IL1B neutralizing antibodies have demonstrated this role in pathogenesis of atherosclerosis and cancer.
Application
Immuno assays, Immuno fluorescence, Paraffin sections, Western blot
Application Notes
Dilutions to be used depend on detection system applied. It is recommended that users test the reagent and determine their own optimal dilutions. The typical starting working dilution is 1:50.
Product type
Monoclonal antibodies
Formulation
0.2 µm filtered in PBS+50%glycerol+0.5%BSA+0.02%NaN3
Immunogen
Purified recombinant fragment of human IL-1b expressed in E. Coli.
Alias
IL-1b, Interleukin-1 beta, Catabolin, IL1F2
Storage and stability
Product should be stored at 4°C. Under recommended storage conditions, product is stable for at least one year.
Precautions
For research use only. Not for use in or on humans or animals or for diagnostics. It is the responsibility of the user to comply with all local/state and federal rules in the use of this product. Hycult Biotech is not responsible for any patent infringements that might result from the use or derivation of this product.
CoA-TDS HM2300-HM2400
HM2383
Calculate your ELISA data easily
With the ELISA calculator you can easily calculate ELISA data. Assayfit Pro helps to perform curve fitting. The calculator generates advanced reports, fit graph, fit parameters and goodness of fit are shown.
We are glad to support you!
Our technical support team of qualified scientists is more than willing to assist.