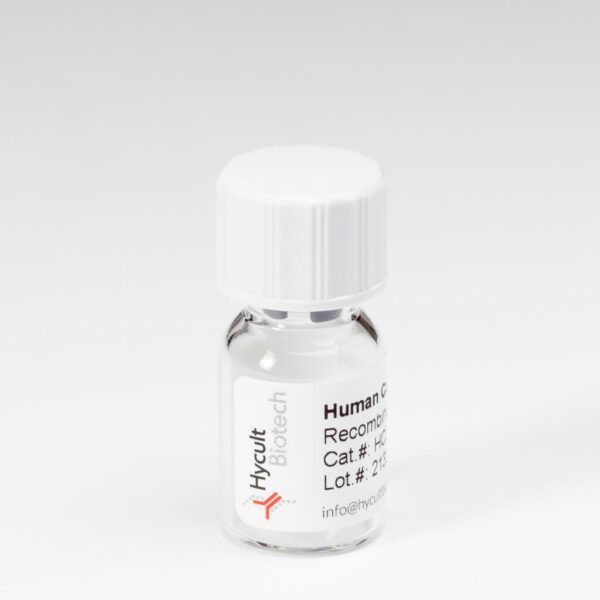 Catalog # HC2132-100UG

Properdin, Human, Natural
Please choose the quantity of items you wish to add to your cart…
Find distributor
Human properdin (complement factor P) is a single-chain plasma glycoprotein with an apparent molecular mass of 52-55 kDa. The protein domain structure of properdin consists of six thrombospondin repeat sequences between short N- and C-terminal domains. In blood, properdin exists as a mixture of head-to-tail dimers, trimers and tetramers. The protein is expressed by a variety of leukocytes, including monocytes, T lymphocytes and neutrophils, but also by endothelial cells in which properdin synthesis is induced by certain stress factors. Properdin participates in the alternative pathway of complement activation together with C3 and factors B, D, I and H by prolonging the half-life of the labile C3bBb, which is deposited on immune complexes or foreign surfaces. This permits amplification of C3bBb formation in competition with catabolism of C3b by factor I, which uses factor H as a cofactor. The local amplification process leads to the creation of the alternative pathway C5 convertase, C3bBb3b, and initiates the terminal pathway of complement activation. As a consequence, properdin is consumed by binding to C3bBb, which shows an order of preference of tetramers over trimers over dimers, which corresponds to the functional activity of the oligomeric forms. Deficiency or malfunction of the molecule may lead to severe impairment of alternative pathway activation, depending on the precise nature of the defect. Three types of deficiencies have been described so far: type 1 (or I) is characterized by serum with very low or absent properdin activity in hemolytic assays and <0.1 μg/ml immunoreactive protein; type 2 (or II) is characterized by low but detectable levels of immunoreactive protein (>2 μg/ml) and impairment of some, but not all functional test, and type 3 (or III) has normal levels of immunoreactive but dysfunctional protein (5-25 μg/mL). Lower properdin levels were found in 70% of diabetic patients when compared to nondiabetic controls and is suggested by the authors that patients with low expression of properdin take preventive measures and early treatments against infection. HC2132 is purified from normal human serum.
Application
Functional studies, Immuno assays
Use
For Immuno assay and functional studies. The functional activity is >70% versus normal human serum standard.
Formulation
0.1 ml of approximately 1 mg/ml purified natural human Properdin isolated from healthy blood donors, in 10 mM Sodium phosphate, 145 mM NaCl, pH 7.3. The blood donors have been tested and found negative for various viruses (see table: "Human blood test results"). The exact protein concentration is indicated on the label.
Storage and stability
Product should be stored at –70°C. Repeated freeze and thaw cycles will cause loss of activity. The exact expiry date is indicated on the label. Use Properdin protein within 24 hours after thawing and keep on ice. Remainder amounts should be aliquoted and immediately re-freezed for future use. Aliquots should never be thawed more than once. Under recommended storage conditions, product is stable for at least one year.
Precautions
For research use only. Not for use in or on humans or animals or for diagnostics. It is the responsibility of the user to comply with all local/state and federal rules in the use of this product. Hycult Biotech is not responsible for any patent infringements that might result from the use or derivation of this product.
CoA-TDS Protein
HC2132
Safety Data Sheet
SDS - HC2132-100UG
You may be interested in…

Calculate your ELISA data easily
With the ELISA calculator you can easily calculate ELISA data. Assayfit Pro helps to perform curve fitting. The calculator generates advanced reports, fit graph, fit parameters and goodness of fit are shown.
Latest Hycult Biotech news
New Human Complement Pathway Assays

We are very proud of our newly developed human classical and alternative complement pathway assays. They are produced in response to a growing demand for quantitative investigation of complement inhibitors or regulators at lower sample dilutions. This development aims to address the issue of false negative results, enabling more accurate and reliable analysis of complement…

Read more

: New Human Complement Pathway Assays

Navigating the pitfalls in complement analysis

Our colleague Erik Toonen shared his experience on how to analyze complement at the Complement-based Drug Development Summit in Boston in September 11-13th, 2023. He showed valuable insights on analyzing complements. For accurate complement analysis, it is important that not only the correct technique is used but also that pre-analytical sample handling is performed in…

Read more

: Navigating the pitfalls in complement analysis

NEW Human C3d ELISA

We are happy to introduce our new ELISA (cat.# HK3017) designed to detect human C3d. What sets this assay apart is its utilization of a distinctive neo-epitope capture antibody that selectively targets a specific C3d region of the alpha chain, which is not available in other C3 variants. This way it specifically distinguishes C3d from native C3…

Read more

: NEW Human C3d ELISA