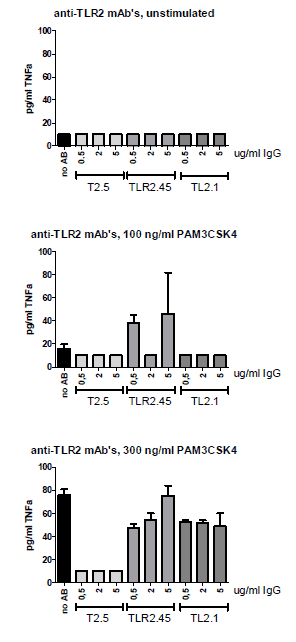 TLR Bulk Promotion Functional Studies
The application Functional Studies (FS) is a commonly used application for TLR antibodies.
Our antibodies:
– Have low endotoxin: < 24EU/ml
– Are developed and produced in endotoxin free facilities
– Will be delivered in PBS-only formulation
– Are available in bulk amount (mg)
– Are purified available starting from 100µg
We have a special promotion for 5 TLR FS antibodies: the following products are available in 1mg! For price and order information please contact your distributor or support@hycultbiotech.com.
| | |
| --- | --- |
| Cat.# | Description |
| HM1029B | TLR4/MD2, Mouse, mAb MTS510 |
| HM1054B | TLR2, Mouse, mAb T2.5 |
| HM2064B | TLR2, Human, mAb TL2.1 |
| HM2096B | TLR3, Human, mAb TLR3.7 |
| HM2246B | TLR4/MD-2, Human, mAb 7E3 |
Experiment: Effect of anti-TLR2 antibodies on PAM3CSK4 stimulation and of anti-TLR4/MD2 antibodies on LPS stimulation
Anti-TLR2 mAb T2.5 is superior in inhibiting TLR2 driven TNF production in whole blood
Anti-TLR2 mAb TLR2.45 seems to carry some activating activity that synergizes with TLR2 stimulation

Anti-MD2 mAb 18H10 is superior in inhibiting TLR4 driven TNF production in whole blood in a concentration dependent manner

Anti-TLR4 antibody 3C3 inhibits TLR4 driven TNF production in whole blood, but only partial in it seems a non-competitive manner. No concentration dependence was observed for 3C3