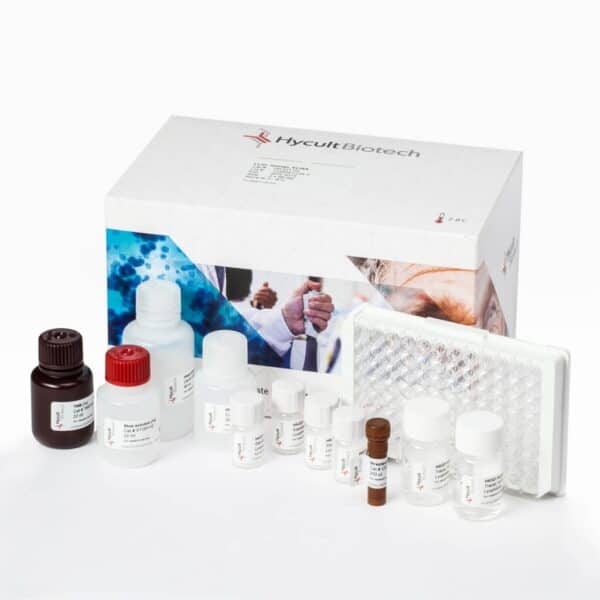 Catalog # HK387

Alpha-1-antitrypsin, Human, ELISA kit
Please choose the quantity of items you wish to add to your cart…
Find distributor
The human alpha-1 antitripsin ELISA detects both the healthy monomeric form (M variant) and the disease associated polymeric forms (Z variants) of human alpha-1-antitrypsin with equal affinity. Alpha-1-antitrypsin is a member of the serine protease inhibitor (serpin) superfamily which are proteins known for their ability to inhibit proteases. It is the most abundant circulating protease inhibitor known. It mainly targets enzymes released by neutrophils, especially neutrophil elastase (NE) but also proteinase 3 (PR3) and Cathepsin G (CG). Serpinopathies are conformational diseases characterized by the polymerization and intracellular retention of members of the serpin superfamily. The best known is Alpha-1-antitrypsin deficiency, with the most common severe deficiency allele being the Z mutation (Glu342Lys). This severe autosomal dominant disorder causes the protein to undergo a conformational transition and form ordered polymers that are retained within hepatocytes. Due to this accumulation of polymers in hepatocytes, blood alpha-1 trypsin levels will decrease leading to chronic uninhibited tissue breakdown. This causes the degradation especially of lung tissue which will eventually lead to pulmonary emphysema. In addition, accumulation of polymers in hepatocytes causes liver diseases such as neonatal hepatitis, cirrhosis, and hepatocellular carcinoma.
Principle
- The Human Alpha-1-antitrypsin ELISA is a ready-to-use solid-phase enzyme-linked immunosorbent assay based on the sandwich principle with a working time of 3½ hours.
- The efficient format of a plate with twelve disposable 8-well strips allows free choice of batch size for the assay.
- Samples and standards are incubated in microtiter wells coated with antibodies recognizing Human Alpha-1-antitrypsin.
- Biotinylated tracer antibody will bind to the captured Human Alpha-1-antitrypsin.
- Streptavidin-peroxidase conjugate will bind to the biotinylated tracer antibody.
- Streptavidin-peroxidase conjugate will react with the substrate, tetramethylbenzidine (TMB).
- The enzyme reaction is stopped by the addition of oxalic acid.
- The absorbance at 450 nm is measured with a spectrophotometer. A standard curve is obtained by plotting the absorbance (linear) versus the corresponding concentrations of the Human - Alpha-1-antitrypsin standards (log).
- The Human Alpha-1-antitrypsin concentration of samples, which are run concurrently with the standards, can be determined from the standard curve.

Linearity
Linearity of 6 EDTA plasma samples was determined. CV of the samples is between 3.2 and 12.5%.
Precision and reproducibility
The intra-assay was tested by testing 4 EDTA plasma samples in triplo and ranged from 5.5-8.6%. The inter-assay was tested by testing 4 EDTA plasma samples by 2 operators and ranged from 9.7-16.6%.
Amount
1 x 96 det., 2 x 96 det.
Standard range
1.6 to 100 ng/ml
Working volume
100 µl/well
Cross reactivity
Horse – No, Mouse – No, Pig – No, Rat – No
Alias
Alpha-1 protease inhibitor; Alpha-1-antiproteinase; Serpin A1
Storage and stability
Product should be stored at 4 °C. Under recommended storage conditions, product is stable for at least six months.
Precautions
Note that this user protocol is not lot-specific and is representative for the current specifications of this product. Please consult the vial label and the Certificate of Analysis for information on specific lots. Also note that shipping conditions may differ from storage conditions. - For research use only. Not for use in or on humans or animals or for diagnostics. It is the responsibility of the user to comply with all local/state and federal rules in the use of this product. Hycult Biotech is not responsible for any patent infringements that might result from the use or derivation of this product.
Assay Manual
HK387
Safety Data Sheet
SDS - HK387
Calculate your ELISA data easily
With the ELISA calculator you can easily calculate ELISA data. Assayfit Pro helps to perform curve fitting. The calculator generates advanced reports, fit graph, fit parameters and goodness of fit are shown.