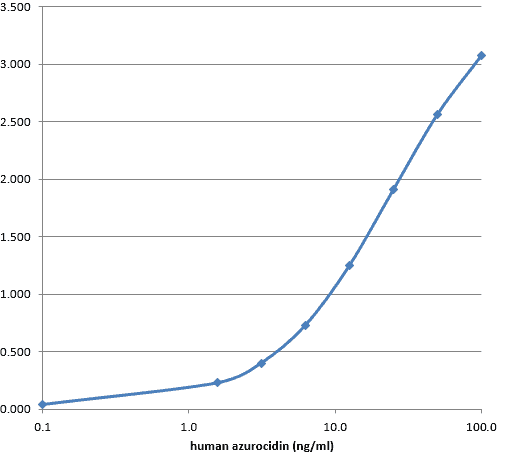 Catalog # HM2311

Azurocidin, Human, mAb z6733
Please choose the quantity of items you wish to add to your cart…
Find distributor
The monoclonal antibody z6733 recognizes azurocidin (also called heparin-binding protein (HBP) or cationic antimicrobial protein of 37 Kda (CAP37). Azurocidin is an inactive homolog of serine proteinases residing in granulocytes. Initially it was thought to have only activity against gram-negative bacteria. Later it was also found to act against gram-positive bacteria and C.albicans. Azurocidin is considered a family member of polymorphonuclear leukocytes- derived antimicrobial proteins like defensins, LL-37 and lysozyme. Azurocidin has been recognized as a player in the activation and modulation of the immune response and may act to alarm the immune system. The cationic domain at one side of the protein is essential for its antimicrobial activity. It is stored in azurophil granules as well as secretory granules and as a result partly released at early stage of extravasation. Azurocidin is involved in chemotaxis and activation of monocytes, cytokine release and phagocytosis leading to more efficient bacterial clearance. The primary targeted environment of azurocidin are cells in the bloodstream, that is the endothelial lining, and the extravascular surroundings. The interaction of azurocidin with leucocytes is mediated via β2-intergrins. High plasma levels of azurocidin might help with the identification of patients which are at risk in developing sepsis.
Application
Immuno assays
Application Notes
IA: Antibody z6733 can be used both as detection and capture antibody
Use
Dilutions to be used depend on detection system applied. It is recommended that users test the reagent and determine their own optimal dilutions. The typical starting working dilution is 1:50.
Product type
Monoclonal antibodies
Formulation
0.2 ml (100 µg/ml) 0.2 µm filtered protein G purified antibody solution in PBS, containing 0.1% bovine serum albumin and 0.02% sodium azide.
Alias
Cationic antimicrobial peptide CAP37, Heparin-binding protein, HBP
Storage and stability
Product should be stored at 4°C. Under recommended storage conditions, product is stable for at least one year. The exact expiry date is indicated on the label.
Precautions
For research use only. Not for use in or on humans or animals or for diagnostics. It is the responsibility of the user to comply with all local/state and federal rules in the use of this product. Hycult Biotech is not responsible for any patent infringements that might result from the use or derivation of this product.
Disease
Infectious diseases
ProtocolCoA-TDS HM2200 - 2300CoA-TDS HM2300-HM2400Safety Data Sheet
Calculate your ELISA data easily
With the ELISA calculator you can easily calculate ELISA data. Assayfit Pro helps to perform curve fitting. The calculator generates advanced reports, fit graph, fit parameters and goodness of fit are shown.
Latest Hycult Biotech news