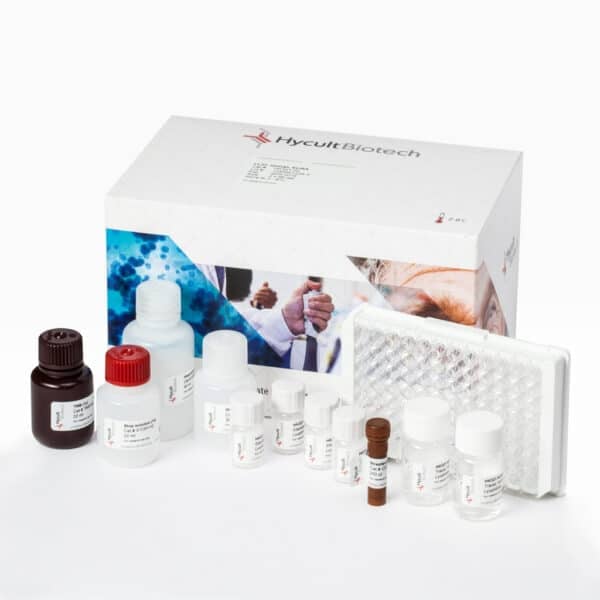 Catalog # HK377

S100A4, Human, ELISA kit
The S100A4 ELISA is able to detect S100A4 protein in human plasma and serum samples. S100A4 is a member of the S100 family.
Read more
Please choose the quantity of items you wish to add to your cart…
Find distributor
The S100A4 ELISA is able to detect S100A4 protein in human plasma and serum samples. S100A4 is a member of the S100 family. To date, the family consists of 22 members. S100 proteins are low molecular weight calcium binding proteins. The proteins consist of 2 calcium binding EF-hands located on the termini flanked by hydrophobic hinge regions.
Calcium ions acts as a global second messenger involved in the regulation of many aspects of cell function. S100 proteins are involved in sensing and transforming calcium signals to downstream cellular responses. S100 family members are located in the cytoplasm and/or nucleus of a wide range of cell types and involved in the regulation of cellular processes such as cell cycle progression and differentiation and inflammatory responses.
Several S100 members have been found to act as cytokines in inflammation, particularly in autoimmune skin conditions such as psoriasis. S100A4 may function in motility, invasion, and tubulin polymerization. Chromosomal rearrangements and altered S100A4 gene expression have been implicated in tumor metastasis. Studies have shown that S100A4 is involved tumor progression and metastasis in various malignant tumors. It is suggested that S100A4 serves as a promising candidate biomarker for early diagnosis and prediction of metastasis in several types of cancer.
Principle
- The Human S100A4 ELISA is a ready-to-use solid-phase enzyme-linked immunosorbent assay based on the sandwich principle with a working time of 3½ hours.
- The efficient format of a plate with twelve disposable 8-well strips allows free choice of batch size for the assay.
- Samples and standards are incubated in microtiter wells coated with antibodies recognizing Human S100A4.
- Biotinylated tracer antibody will bind to the captured Human S100A4.
- Streptavidin-peroxidase conjugate will bind to the biotinylated tracer antibody.
- Streptavidin-peroxidase conjugate will react with the substrate, tetramethylbenzidine (TMB).
- The enzyme reaction is stopped by the addition of oxalic acid.
- The absorbance at 450 nm is measured with a spectrophotometer. A standard curve is obtained by plotting the absorbance (linear) versus the corresponding concentrations of the Human S100A4 standards (log).
- The Human S100A4 concentration of samples, which are run concurrently with the standards, can be determined from the standard curve.
Recovery
Heparin plasma samples containing baseline levels of human S100A4, were mixed in three different ratios. Samples were measured using the ELISA. Recovery ranged from 88-106%.
Amount
1 x 96 det., 2 x 96 det.
Standard range
Measurable concentration range of 1.6 to 100 ng/ml
Working volume
100 µl/well
Cross reactivity
Horse – Yes, Mouse – No, Pig – Yes, Rat – No
Storage and stability
Product should be stored at 4 °C. Under recommended storage conditions, product is stable for at least six months.
Precautions
The Human S100A4 ELISA kit is to be used for the in vitro quantitative determination of S100A4 in plasma and serum samples. This kit is intended for laboratory research use only and is not for use in diagnostic or therapeutic procedures. - The analysis should be performed by trained laboratory professionals.
Assay Manual
HK377
Safety Data Sheet
SDS - HK377
Calculate your ELISA data easily
With the ELISA calculator you can easily calculate ELISA data. Assayfit Pro helps to perform curve fitting. The calculator generates advanced reports, fit graph, fit parameters and goodness of fit are shown.