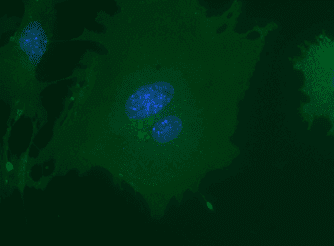 Catalog # HM1107

VCAM-1, Mouse, mAb 6C7.1
Please choose the quantity of items you wish to add to your cart…
Find distributor
The monoclonal antibody 6C7.1 recognizes mouse vascular cell adhesion molecule (VCAM-1) (~ 81 kDa), a member of a subclass of the immunoglobulin superfamily (IgSF). IgSF members are ligands for integrins. Cell adhesion molecules (CAMs) have important roles in the immune response, immune surveillance and cell-cell recognition, especially in leukocyte-endothelial cell adhesion. CAMs on the surface of leukocytes and endothelial cells are actively involved in the recruitment of specific leukocyte subsets into different tissues. VCAM-1 is expressed on inflamed vascular endothelium, as well as on macrophage-like and dendritic cell types in both normal and inflamed tissue. Cell adhesion molecules, like VCAM-1, are upregulated on cerebral vessels during inflammatory conditions of the central nervous system such as experimental autoimmune encephalomyelitis (EAE), a model system for multiple sclerosis. Administration of monoclonal antibody 6C7.1 has been shown to inhibit or diminish clinical or pathological signs of EAE. VCAM-1 is a receptor for encephalomyocarditis virus on murine vascular endothelial cells. Expression of VCAM-1 on vascular endothelial cells is induced by TNF-alpha, IL-1, IFN-gamma or endotoxin. VCAM-1 is a ligand for the integrins alpha4beta1 (VLA-4) and alpha4beta7 (LPAM-1). These integrins are constitutively expressed by thymocytes, lymphocytes and monocytes. VCAM-1/VLA-4 interaction may play a pathophysiological role in immune responses and as well as in leukocyte emigration to sites of inflammation.
Application
Flow cytometry, Frozen sections, Functional studies, Immuno fluorescence, Immuno precipitation
Use
For immunofluorescence and flow cytometry, dilutions to be used depend on detection system applied. It is recommended that users test the reagent and determine their own optimal dilutions. The typical starting working dilution is 1:50. For functional studies, in vitro dilutions have to be optimized in user's experimental setting.
Product type
Monoclonal antibodies
Formulation
0.2 ml (100 µg/ml) 0.2 µm filtered antibody solution in PBS, containing 0.1% bovine serum albumin.
Immunogen
Mouse endothelial cells
Alias
CD106, INCAM-100, Vascular cell adhesion protein 1
Storage and stability
Product should be stored at 4 °C. Under recommended storage conditions, product is stable for one year.
Precautions
For research use only. Not for use in or on humans or animals or for diagnostics. It is the responsibility of the user to comply with all local/state and federal rules in the use of this product. Hycult Biotech is not responsible for any patent infringements that might result from the use or derivation of this product.
Disease
Cardiology and metabolism, Tumor immunology
Protocol CoA-TDS HM1067-HM2099 Safety Data Sheet
Calculate your ELISA data easily
With the ELISA calculator you can easily calculate ELISA data. Assayfit Pro helps to perform curve fitting. The calculator generates advanced reports, fit graph, fit parameters and goodness of fit are shown.